Preparing for 2014
In November 2013, i-Pathways launched the new version of High School Equivalency test preparation curriculum, along with a newly designed and mobile ready course management system. A phased roll out will provide users time to learn to navigate our site and explore the new curriculum.
The anticipated release dates are:
Reasoning Through Language Arts curriculum - Launched
Science curriculum - Launched
Social Studies curriculum - Launched
Math curriculum - Early April 2014
Consumer Education curriculum - June 2014
PreGED® Writing curriculum - June 2014
PreGED® Math curriculum - July 2014
Request GED Ready™ Voucher Quote
To request a quote for GED Ready™ practice test vouchers, please complete the information below and an
i-Pathways team member will respond as soon as possible.
ATTENTION STUDENTS: We are unable to sell to students at the time. Refer to your Adult Education Provider or the GED Testing Service.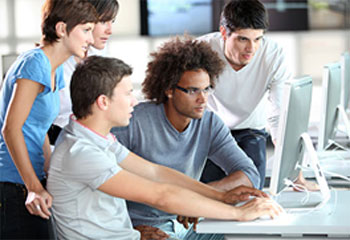 Thousands of young people and adults from all over the United States prepare for a high school equivalency exam every year.
i-Pathways is an online, web-based test preparation curriculum to prepare students for the GED® test or other high-school equivalency exams. i-Pathways is teacher-facilitated and includes curriculum, teaching tools, class management strategies, and a variety of reporting options to ensure success of the students enrolled in your program.
i-Pathways is designed by educators for educators and delivers organizations a field-tested curriculum, with a 10+ year track record of successful deployment nationally. i-Pathways was developed by a non-profit collaboration between the Illinois Community College Board and the Center for the Application of Information Technologies at Western Illinois University.
Interested in i-Pathways? Contact us today to speak with a member of our team.