Science
All living things go through a life cycle, including cells. The cell's life cycle is divided into two major phases:
Interphase
M phase (Mitosis)
Mitosis is further broken down into four separate phases:
Prophase
Metaphase
Anaphase
Telophase
During its life cycle, a typical cell spends most of its time in Interphase, where it grows and carries out its particular job. At some point in its life, it is triggered to divide into two daughter cells. This cell division is called mitosis, and it takes place during the last four phases of the cell life cycle: Prophase, Metaphase, Anaphase, and Telophase. The purpose of mitosis is to copy the genetic material so that when Telophase has ended, the result is two genetically identical cells. These two cells then start their own life cycle beginning with Interphase.
It is important that you understand how the cell cycle is organized. Cycles repeat the same steps over and over in the same order.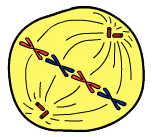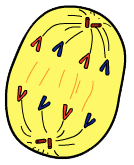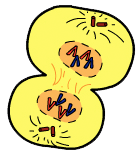 Every organism has a specific number of chromosomes in its cells. All human cells (except the reproductive cells) have 46 chromosomes or 23 pairs (one set from each parent). During mitosis, each chromosome must duplicate, so that each daughter cell gets a full set of 46 chromosomes.
We have been studying the life cycle of a cell. See what you can recall from what you have learned so far.