Home Schooling
| Inclusive Curriculum Subscription | Price |
| --- | --- |
| All Curriculum for 3 month subscription | $40.00 |
| All Curriculum for 6 month subscription | $60.00 |
| All Curriculum for 12 month subscription | $110.00 |
Buy Now
| Individual Curriculum Subscription | Price |
| --- | --- |
| Math Curriculum for 3 month subscription | $20.00 |
| Language Arts Curriculum for 3 month subscription | $20.00 |
| Science Curriculum for 3 month subscription | $20.00 |
| Social Studies Curriculum for 3 month subscription | $20.00 |
| Consumer Education Curriculum for 3 month subscription | $20.00 |
Buy Now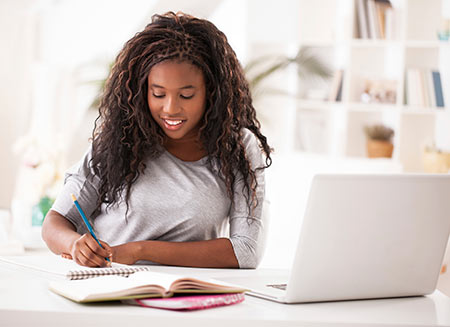 i-Pathways offers an online, robust, and interactive curricula for a range of learners. Content in Language Arts Reading, Writing, Science, Social Studies, Math, and Consumer Education can be used to support home school instruction, provide students with afterschool or summer skill building, high school equivalency, or help with ASVAB or ACT preparation. The curricula address many of the College and Career Readiness Standards and can be used independently or with parent supervision.
Each content area can be used as a stand-alone piece. Individual content areas are succinct, meaningful, and relevant. Combined, there are hundreds of self-paced lessons designed to promote critical thinking and college or workplace readiness. Since everything is online, you can determine your own learning experience. The subscription model means you only need to pay for the content you want, creating an affordable and flexible resource. If you would like to use i-Pathways for multiple students and would prefer the entire range of teacher tracking tools, view the Programs page for license information.
Scope & Sequence
Sample Lessons
Content Areas Include
Basic Writing
Preparing students for the written portion of the test, this module includes instruction in organization of ideas, language development, writing conventions, and patterns of development.
Reasoning Through Language Arts
Using an evidence-based reading approach, this module helps learners build skills in comprehension and vocabulary development through the use of research-based instructional strategies. Passages reflect a cross curricular approach by presenting a variety of complex text in both literary and non-fiction text.
Basic Math
Preparing students with the foundational skills in math, this module includes instruction in number sense and introductions to algebraic thinking.
Mathematics
Building foundational skills in mathematical reasoning and fluency in problem solving and procedural application, this module includes instruction in real and complex numbers, absolute values, computation and estimation with real numbers, exponents, radicals, ratios, proportions and percentages.
Science
Addressing the standards of the National Research Council's Framework for K-12 Science Education, the major content areas in Science include life science, earth and space, and physical science.
Social Studies
Addressing the requirements for the National Standards for History, students develop the background knowledge and content area expertise to successfully complete the Social Studies exam.
Consumer Education
Building strong financial literacy, the Consumer Education model covers topics such as finding a job, filling out wage forms, understanding taxes, resolving consumer complaints, and many more.
In addition to the curriculum, students have access to tools such as:
Glossary of Key Terms
Relevant Web Links
Graphic Organizers
Worksheets in Math and Writing
Extended Response Worksheets