Correctional Education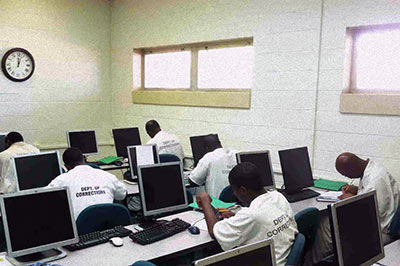 i-Pathways Correctional Education is offered at correctional facilities and county jails throughout the country. Using a secure network, students and teachers can connect to i-Pathways and use the robust and engaging curriculum. With hundreds of lessons, practice assessments, and student tracking, i-Pathways proves to be an accessible and valuable addition to the adult education classroom.
The i-Pathways Internet Connected Model is geared toward locations where you have an Internet connection and are able to securely connect with the i-Pathways data center.
How It Works
Your IT staff will configure their network to allow a connection from the classroom(s) to the Internet using the facility network. Once this is completed, your IT staff will work with the i-Pathways technical team to complete the connection to i-Pathways servers. The connection will require your IT staff to whitelist the i-Pathways IP address in order to enable access to your students.
Scope & Sequence
Sample Lessons
Contact for Pricing
Why Use the Internet Connected Model
With the Internet connected model you will have seamless access to the most updated content on the i-Pathways site. The i-Pathways Internet connected model is currently deployed in the Illinois Department of Corrections and the Howard County (Maryland) jail.
The Corrections Classroom Deployment model is based upon the same i-Pathways curriculum that we offer to non-corrections adult education programs and students. It is slightly modified for the corrections classroom, i.e. no link to the Internet for additional resources.
In addition to the curriculum, teachers have access to tools for classroom use such as:
Glossary of Key Terms
Graphic Organizers
Worksheets in Math and Writing
Extended Response Worksheets
User manuals
Looking for an Offline Education Solution
Understanding that many correctional facilities may struggle with Internet access, i-Pathways Oasis is an innovative solution that delivers all of the i-Pathways curricula, features and functionality to your computer lab environment on a single, unique device. Students can wirelessly connect to the device and access the i-Pathways system and curricula. Students can complete assessments, engage in all the instant feedback activities, and prepare for their High School Equivalency Exams. Teachers can track student progress and provide feedback.