High School Equivalency for Programs and Organizations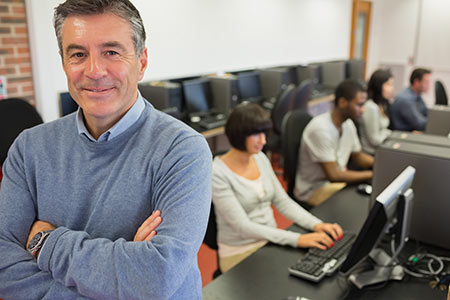 i-Pathways is a web-based system that blends self-paced learning, practice assessments, and relevant curricula with instruction in Math, Language Arts (Reading and Writing), Science, and Social Studies developed by expert adult education instructors and designed to prepare adult learners for the GED®, HiSET™, and TASC™.
Instruction is appropriate for learners at the ABE level through the ASE level. Students, instructors, and program administrators can access i-Pathways with any device, including desktop computers, mobile phones, tablets, and laptops that connect to the Internet. Engaging content housed in a robust system ensures that programs can deliver instruction at-a-distance, in a blended learning environment, or as a classroom supplement. Teachers can track student progress and provide feedback and report features for tracking attendance are available.
Value added elements of the i-Pathways project include professional development and a comprehensive customer support team able to aid users in developing skills to navigate the system.
Scope & Sequence
Sample Lessons
Contact for Pricing
Content Areas Include
i-Pathways' curriculum is approved by GEDTS®, and meets the highest standards of quality assurance.


Basic Writing
Preparing students for the written portion of the test, this module includes instruction in organization of ideas, language development, writing conventions, and patterns of development.
Reasoning Through Language Arts
Using an evidence-based reading approach, this module helps learners build skills in comprehension and vocabulary development through the use of research-based instructional strategies. Passages reflect a cross curricular approach by presenting a variety of complex text in both literary and non-fiction text.
Basic Math
Preparing students with the foundational skills in math, this module includes instruction in number sense and introductions to algebraic thinking.
Mathematics
Building foundational skills in mathematical reasoning and fluency in problem solving and procedural application, this module includes instruction in real and complex numbers, absolute values, computation and estimation with real numbers, exponents, radicals, ratios, proportions and percentages.
Science
Addressing the standards of the National Research Council's Framework for K-12 Science Education, the major content areas in Science include life science, earth and space, and physical science.
Social Studies
Addressing the requirements for the National Standards for History, students develop the background knowledge and content area expertise to successfully complete the Social Studies exam.
Consumer Education
Building strong financial literacy, the Consumer Education model covers topics such as finding a job, filling out wage forms, understanding taxes, resolving consumer complaints, and many more.
In addition to the curriculum, students have access to tools such as:
Glossary of Key Terms
Relevant Web Links
Graphic Organizers
Worksheets in Math and Writing
Extended Response Worksheets